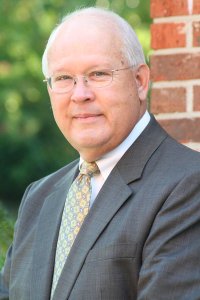 Larry has practiced law for over 25 years. The practice of law has exposed him to conflict, its damaging effects and the need for a biblically based alternative for followers of Christ. As a lawyer, he has been certified to mediate conflicts in both family and civil courts of South Carolina. He has taken training in mediation and conflict coaching through Peacemaker Ministries, an internationally recognized peacemaking organization. Larry is certified to present the "Managing Workplace Conflict" seminar prepared by the Mediation Training Institute. He is a member of Southside Fellowship (formerly Southside Baptist Church) for forty years. His involvement at Southside has included service as a deacon, teacher, member of various project committees including Pastoral search committee. Most recently, he has assisted the church in building its culture of peace. He has conducted a staff retreat in peacemaking for a local Christian agency and an international missionary agency in Athens Greece.
Larry has been teaching experience in junior high, high school and college levels.
He is married to the former Rebecca Jones. They have four lovely children and four super grandchildren, with two more grandchildren on the way in 2010.
Larry is available for individual conflict coaching, organizational retreats, church consulting on peacemaking and relationship restoration through biblically based mediation and arbitration. You can contact Larry directly  This email address is being protected from spambots. You need JavaScript enabled to view it. .
Our Core Beliefs:
We believe that the Bible story is the story of peace and that peace is found in the person of Christ. We believe that the Gospel, "that Jesus gave himself for our sins that He might deliver us from this present evil age, according to the will of the Father" (Gal 1:4) is the fundamental truth that brings peace to all people. We believe that the source of peace is in being known by God and living daily under the leadership of the Holy Spirit.
On the waters of life there is often turmoil. Storms arise and threaten everything we hold dear. But peacetalk is committed to the idea that when the Spirit enters and drives the boat of our lives, we can find the still waters. The wind of the Spirit, is caught by the sails of our hearts and we can know peace in the middle of the worse storms of life.
Testmonials
See what others are saying about Peace Talk
This privacy policy sets out how PeaceTalk uses and protects any information that you give us when you use this website.
PeaceTalk is committed to ensuring that your privacy is protected. Should we ask you to provide certain information by which you can be identified when using this website, then you can be assured that it will only be used in accordance with this privacy statement.
PeaceTalk may change this policy from time to time by updating this page. You should check this page from time to time to ensure that you are happy with any changes. This policy is effective from 12/31/2011.
What we collect
We may collect the following information:
Your name
Your email address
What we do with the information we gather
We require this information to understand your needs and provide you with a better service, and in particular for the following reasons:
We may periodically send emails about new services, special offers or other information which we think you may find interesting using the email address which you have provided.
Security
We are committed to ensuring that your information is secure. In order to prevent unauthorised access or disclosure, we have put in place suitable physical, electronic and managerial procedures to safeguard and secure the information we collect online.
Links to other websites
Our website may contain links to other websites of interest. However, once you have used these links to leave our site, you should note that we do not have any control over that other website. Therefore, we cannot be responsible for the protection and privacy of any information, which you provide while visiting such sites and such sites are not governed by this privacy statement. You should exercise caution and look at the privacy statement applicable to the website in question.
Controlling your personal information
You may choose to restrict the collection or use of your personal information in the following ways:
if you have previously agreed to us using your personal information for direct marketing purposes, you may change your mind at any time by writing to or emailing us at This email address is being protected from spambots. You need JavaScript enabled to view it. .
We will not sell, distribute or lease your personal information to third parties unless we are required by law to do so. If you believe that any information we are holding on you is incorrect or incomplete, please email us as soon as possible at the above email address. We will promptly correct any information found to be incorrect.
PeaceTalk offers this Web site, including all information, software, products and services available from this Web site or offered as part of or in conjunction with this Web site (the "Web site"), to you, the user, conditioned upon your acceptance of all of the terms, conditions, policies and notices stated here. PeaceTalk reserves the right to make changes to these Terms and Conditions immediately by posting the changed Terms and Conditions in this location.
Your continued use of the Web site constitutes your agreement to all such terms, conditions and notices, and any changes to the Terms and Conditions made by PeaceTalk.
The term 'peacetalk.com' or 'us' or 'we' refers to the owner of the website. The term 'you' refers to the user or viewer of our website.
The use of this website is subject to the following terms of use:
Use the website at your own risk. This website is provided to you "as is," without warranty of any kind either express or implied. Neither PeaceTalk nor its employees, agents, third-party information providers, merchants, licensors or the like warrant that the Web site or its operation will be accurate, reliable, uninterrupted or error-free. No agent or representative has the authority to create any warranty regarding the Web site on behalf of PeaceTalk. PeaceTalk reserves the right to change or discontinue at any time any aspect or feature of the Web site.
Exclusion of Liability
The content of the pages of this website is for your general information and use only. It is subject to change without notice.
Neither we nor any third parties provide any warranty or guarantee as to the accuracy, timeliness, performance, completeness or suitability of the information and materials found or offered on this website for any particular purpose. You acknowledge that such information and materials may contain inaccuracies or errors and we expressly exclude liability for any such inaccuracies or errors to the fullest extent permitted by law.
Indemnification
Your use of any information or materials on this website is entirely at your own risk, for which we shall not be liable. It shall be your own responsibility to ensure that any products, services or information available through this website meet your specific requirements.
This website contains material which is owned by or licensed to us. This material includes, but is not limited to, the design, layout, look, appearance and graphics. Reproduction is prohibited other than in accordance with the copyright notice, which forms part of these terms and conditions.
All trade marks reproduced in this website which are not the property of, or licensed to, the operator are acknowledged on the website.
Unauthorized use of this website may give rise to a claim for damages and/or be a criminal offense.
From time to time this website may also include links to other websites. These links are provided for your convenience to provide further information. They do not signify that we endorse the website(s). We have no responsibility for the content of the linked website(s).
Copyright
Except for material in the public domain under United States copyright law, all material contained on the Web site (including all software, HTML code, Java applets, Active X controls and other code) is protected by United States and foreign copyright laws. Except as otherwise expressly provided in these terms and conditions, you may not copy, distribute, transmit, display, perform, reproduce, publish, license, modify, rewrite, create derivative works from, transfer, or sell any material contained on the Web site without the prior consent of the copyright owner.
None of the material contained on PeaceTalk may be reverse-engineered, disassembled, decompiled, transcribed, stored in a retrieval system, translated into any language or computer language, retransmitted in any form or by any means (electronic, mechanical, photo reproduction, recordation or otherwise), resold or redistributed without the prior written consent of PeaceTalk. Violation of this provision may result in severe civil and criminal penalties.